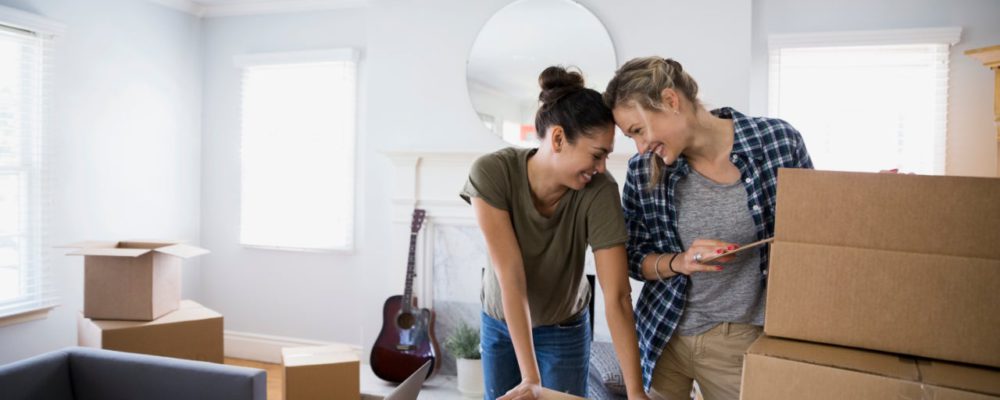 Buying a home is a complicated purchase, particularly if you're cohabiting. Whilst those in a marriage or a civil partnership receive more legal rights and protection if the relationship breaks down, unmarried couples sadly don't have the same luxury.
As house prices continue to rise, we found that 36% of Millennial Brits are waiting to get into a partnership or marriage before purchasing their first home because they simply can't afford it on their own. If this sounds like you, read on to find out everything you need to know about co-owning a property.
What is co-ownership?
Co-ownership takes place when two people buy a property together. Often, it is when married or unmarried couples purchase a home, but joint ownership could also refer to friends or family members. When you become a joint owner, you become either joint tenants or tenants in common.
What do I get as a joint tenant?
Owning a property as joint tenants means that the house belongs to the owners jointly. The owners must act together as one for all transactions, including re-mortgaging and selling. As joint tenants, the owners do not own specific shares in the property and do not have the ability to give away a share of the home in a will. If either owner passes away, their interest in the property passes automatically to the other party involved.
What do I get as a tenant in common? 
When owning the property as tenants in common, the house belongs to the owners jointly, but each owner also owns a specific share of its value. An owner can give away, sell, or mortgage their share, and if an owner dies, their share of the property passes to the beneficiary in their will.
Pros of co-owning a home 
When it comes to getting a mortgage, a lender will consider two incomes which increases your chances of being approved for a mortgage. If you're buying a home with someone else, you will probably split the deposit too. With the average first-time buyer spending £53,935 on a deposit in 2021, it is considerably cheaper to split this cost with another person.
Cons of co-owning a home 
If you decide to buy a home with another person, you won't have the same freedom over the property as with sole ownership. For example, you may want to renovate whilst the other owner decides they'd rather not. If one buyer's financial situation changes, you may be liable to pay their share of the mortgage. Whilst the lender will look at both buyers' incomes, they will also look at both of their credit scores. This means buying a home with a person that has a poor credit score could actually damage your chances of getting a good mortgage.
What are my rights under co-ownership?
As joint owners, each person is the property's legal owner, which means the home can't be sold without each person's agreement or a court order. The type of ownership – joint tenants or tenants in common – affects what you can do with the property if your relationship with the co-owner breaks down, or if one owner dies. As joint tenants, you have equal rights to the entire property. As tenants in common, each person has their own share in the house, which is distinct from the other buyer.
How can Moveable help?
We understand that the process of co-owning a property may seem daunting and complicated. Sign up to Moveable for free here and use our tailored guides to help you through every step of your homebuying journey. You can even use Moveable to find a mortgage lender and solicitor that will help you start the process of buying your home.
Our tailored guides are written by property experts with a collective 25 years' experience in the property industry so trust us when we say, you're in the right place!